Students from Downs View Link College recently undertook a beach clean, in partnership with Marine Conservation Society (MCS).  They also took photographs highlighting the impact humans have on our coastline.  They travelled sustainably from Link College to Brighton seafront and back on the 5b bus, the tickets kindly donated by Brighton & Hove Buses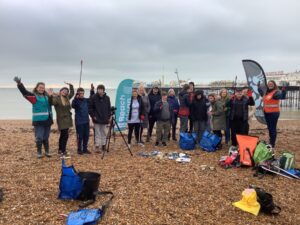 Back at school, the students worked in partnership with PhotoWorks (a local arts charity) using the photos to create an art display reflecting Brighton beach and the marine environment.
The project was funded by Marine Conservation Society (MCS).